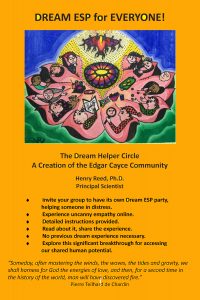 For a free copy of this book describing the history of research on the dream circle, "Dream ESP for Everyone," email henry@henryreed.com
---
The Dream Helper paradigm is truly genius work, and anyone interested in fully understanding the nature of dreaming needs to have a personal experience with it.  It can powerfully give us a direct taste of the interconnections of human consciousness, and it shows us how we are ultimately invested in the health and well-being of each other. 
– Dr Mark Thurston
---
A student of the Edgar Cayce readings, Jungian psychology and indigenous spiritual traditions, Dr. Henry Reed's Dream Helper Ceremony brings a psychic/intuitive ability within reach of everyone who dreams. If his life work can be distilled into a single statement, it is "What you seek is within your reach."
Gregory Scott Sparrow, EdD, LPC, LMFT (Va)
---
You do it every night and it is all about you and you ignore most of it. Now here comes the dean of Dream Research, Henry Reed with an amazing new take on sleep and Dreaming. Dream in a community.  Like the ultimate social media, dream sharing, and dream helper are ways for people to connect across the dream scape help each other, gain insights in yourself and participate in the most amazing inner journey.  The Dream Helper concept is all the best of dream sharing, dream telepathy, dream therapy and community sharing all in one. beside, you do it every night, get in touch with a Dream Helper group and turn you dreams into an adventure. Dream Space is We Space
Dr Alexander Randall 5th
University of the Virgin Islands.
---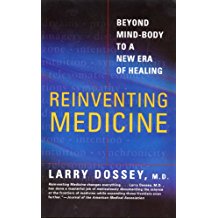 Dream helper ceremonies bind individuals together in the common cause of helping someone in need. The dream helpers give freely of themselves during dreams, holding nothing back. A feeling of love, caring, and empathy envelopes everyone concerned.
To read more about what he says of Dream Helper Circles, click here
Larry Dossey, M.D.,  Author of Reinventing Medicine
---
"This is fantastic Henry. Do a website for the project. "
Stanley Krippner